I made my own
dough
and if you have never done this before it is SO easy! The recipe I used can be found below:
1 (.25 ounce) package active dry yeast (2 1/4tsp for those who do not use packaged yeast)
1 teaspoon white sugar
1 cup warm water (110 degrees F/45 degrees C)
2 1/2 cups bread flour
2 tablespoons olive oil
1 teaspoon salt
Directions
Preheat oven to 450 degrees F (230 degrees C). In a medium bowl, dissolve yeast and sugar in warm water. Let stand until creamy, about 10 minutes.

Stir in flour, salt and oil. Beat until smooth. Let rest for 5 minutes.

Turn dough out onto a lightly floured surface and pat or roll into a round. Transfer crust to a lightly greased pizza pan or baker's peel dusted with cornmeal. Spread with desired toppings and bake in preheated oven for 15 to 20 minutes, or until golden brown. Let baked pizza cool for 5 minutes before serving.
http://allrecipes.com/recipe/quick-and-e
asy-pizza-crust/
For the
Taco Pizza
I did mine vegetarian but of course you can replace any of the vegetarian aspects with meat of your choice:
1lb Morning star crumbles (Recipe calls for 1lb lean ground turkey)
3/4 Cup Water
1 Envelope Reduced-sodium taco seasoning
1 Can Vegetarian Re fried Beans
1-1/2 Cups Shredded Cheese (I used cheddar and a Mexican cheese blend)
3 medium tomatoes, chopped
7 cups shredded lettuce
In a large nonstick skillet, cook meat over medium heat until done (drain if you're using actual meat). Stir in water and taco seasoning. Bring to a boil. Reduce heat; simmer, uncovered for 5 minutes. Stir in refried beans until blended.
So now, basically once you do your dough as the above recipe calls for (you have to cook it in advance) - Spread the mixture over the dough. Sprinkle with cheese. Bake at 425 for 5-7 minutes until cheese is melted. Top with lettuce, tomatoes and any toppings of your choice. We used lettuce, tomatoes, and avocado!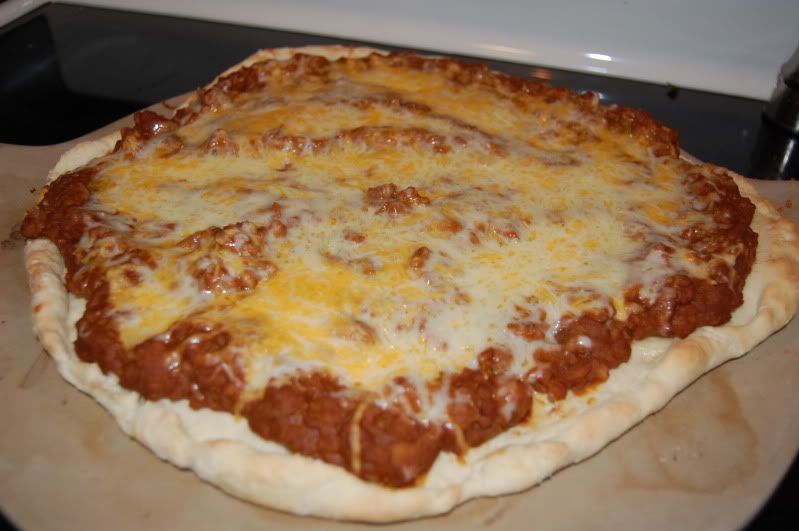 This looks extra weird and cheesy but it was not as cheesy as it looked! Below is the finished product: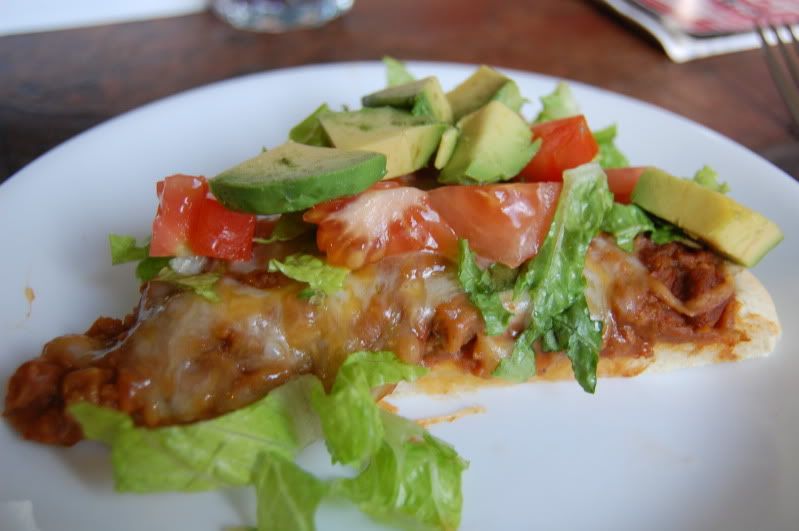 This meal was really good and very easy to make. My three-year-old son even ate it! This came from Healthy Cooking Annual Recipes 2009. It shows that 1 piece is 345 calories but I imagine it will be lower given that I used soy instead of actual meat.
Current Mood:

curious